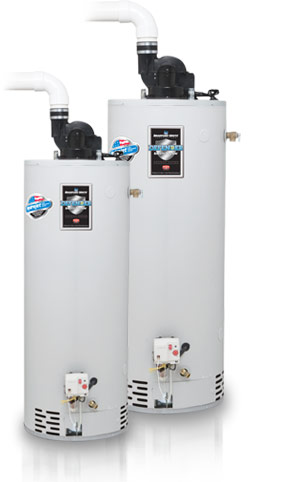 Water Heaters
Commers offers a wide array of both natural and LP gas-powered water heaters for residential use by Bradford White. These durable products provide years of dependable service and are designed to give you more hot water for the money.
Meet the Power-Vented Defender Safety System®
Commers and Bradford White are proud to introduce to you our new FVIR compliant Through-the-Wall models. Not only did we design a new combustion and control system, we took the opportunity to upgrade the blower motor, too.
The TTW Defender Safety System features a new spark-to-pilot ignition and an integrated immersion gas control valve with an LED indicator to assist in troubleshooting. We've also included an electronic sensor that prevents operation if flammable vapors are detected.
Our new blower design has higher torque for better resistance to outside winds and the power to eliminate problems with difficult venting situations. It also features a bearing that runs much cooler for longer life and reduced noise. Overall, you can count on the same high operational efficiency you've come to expect from our TTW line-up. Talk to your Bradford White representative for a sneak peak at the new Defender Safety System Through-the-Wall models. You'll see why we think they are the complete FVIR Through-the-Wall package.