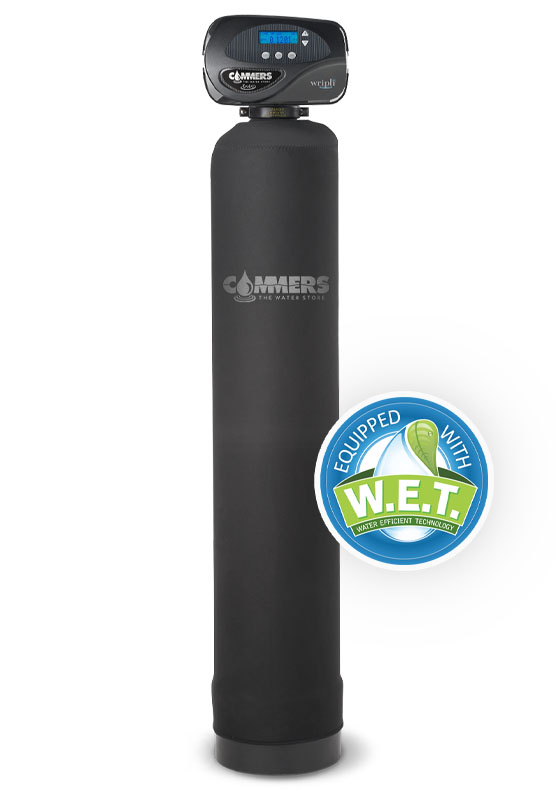 HS Series - Whole House Chemical Reduction and Odor Removal
HS Series - Whole House Chemical
Reduction and Odor Removal
The Commers HS Series is a chemical free unit that removes the nasty "rotten odors" that are found in some private wells. This water metered unit introduces air injection instead of chemicals to the media bed. The Commers HS is part of the IM Series of Premium water treatment units offered by Commers Water. It can be included with other IM units to treat the toughest of water conditions.
Microprocessor-based control — the smart way to customize system performance Displays water usage and system history
The battery backup maintains time of day
High flow rates sustain household water pressure, even with multiple users
7 year warranty on all parts and a lifetime warranty on the tanks Can be customized and sized to fit your family's needs
Our Whole House Chemical Reduction and Odor Removal System Comes In 3 Sizes
3 convenient sizes for any size or usage include 40, 50 and 75.
The Best Water For Your Family
The Commers HS System delivers chlorine and chemical free water to every tap, tub and shower throughout the home. Your family is protected from potential health hazards associated with chlorine and other chemicals. The System reduces irritation, rash- es, and possible health risks due to the absorption of harmful chemicals through your skin, while also protecting against the inhalation of chemical vapors in the shower.
The Commers HS Whole House System effectively reduces or removes:
Chlorine
Herbicides
Pesticides
Unpleasant Taste & Odors
Volitale Organic Compounds (VOCs) Perfluorochemicals (PFCs)
Trihalomethanes (TCM)
Trichlorethyline (TCE)